(Composite fillings – i.e., synthetic fillings and composite veneers, flow)
Composite is a tooth-coloured filling material and is composed of both organic and inorganic material. Composite was originally used almost exclusively to fill front teeth, but is now successfully applied to the other teeth. Further development of bonding material has improved and extended our ability to adhere composites permanently.
Composites were classically used to repair teeth attacked by caries, filling the cavities with material that exactly matched the colour of the tooth. Modern composites enable the formation of the individual layers of a tooth. An ability to recognise and manage colour variation is absolutely essential to a perfect outcome.
High stability enables gaps to be closed between the front teeth (Diastema), and if a front tooth has been broken it is possible to reconstruct the entire tooth, or even stick the broken part back on providing it has not been too badly damaged.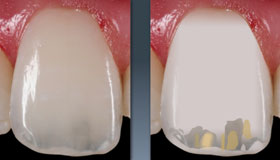 The colour of a natural tooth provides the dentist with a plan which can be used in the recreation of a damaged tooth.

Then the natural reconstruction of an incisor broken after an accident follows a colour analysis and the preparation of a layering template. The colour of the tooth next to the damaged one was used as the exemplar to ensure the damaged tooth retained a natural appearance.
A composite veneer can also be used to restore teeth that require repositioning or realigning. [See also Publications] The material can be layered in different colours.

Correctly aligning teeth can be achieved through composites, which results in a completely changed appearance. A direct composite veneer (applied non-invasively) can be integrated perfectly into its orthodontic surroundings. The misalignment becomes invisible.